Count On Norfolk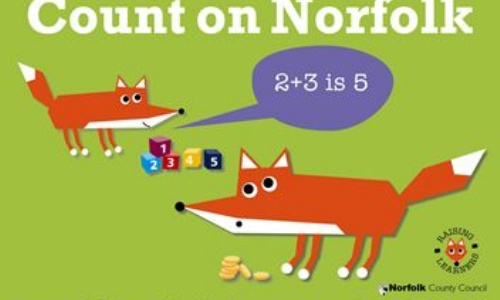 On Tuesday 30th May Norfolk County Council are launching a new maths campaign, Count on Norfolk, aimed at supporting children's learning at home.
The campaign is being launched to help boost maths skills in children aged 11 and under, with the long term aim of improving Key Stage 2 maths performance.
From Tuesday onwards, a new section on Norfolk County Council website www.norfolk.gov.uk/raisinglearners will give parents and carers top tips and ideas on how to have fun with children using numbers at home, with the aim of incorporating maths into everyday games and activities.
One of the aims of the campaign is for families to be really positive about maths, developing a "can-do" attitude with their children and bringing maths to life through fun activities and play. There are ideas and tips on their website which will help.
You can also listen in to Radio Norfolk's breakfast show during half-term week, from Tuesday, when Nick Conrad will be speaking to a variety of people from professions across Norfolk for Count On Norfolk about the interesting ways in which they use maths at work, including a baker, a scientist and a firefighter, plus a maths tutor and numeracy expert who will talk about 'maths anxiety' of parents.
Finally, you can join in by sharing ideas about how you use maths in everyday life on our Facebook or Twitter #CountOnNorfolk, which will be running through the summer.